The Art and Science of Treating Large Intestine Acupuncture Points Clears Facial Soreness Around the Eyes and Nose, Heaviness and Congestion of the Chest or Bowel and Cramping During Menstrual Cycles. If You Are Experiencing These or Other Large Intestine Related Congestion Problems, Call Dr. Robert C. Slater DC, CAp at Healing Hands Wellness LLC today at 952-217-9587 For Professional Acupuncture Assessment and Treatment
Large intestine's physiologic functions that support your vitality and body hygiene by detoxifying the digestive system and subsequently relieving pain and congestion anywhere in the body, including the face, head, and neck. To achieve these welcomed health benefits the large intestine meridian does the following:
1-transports and transforms waste from the body.
2-reabsorbs fluids from the bowel into the circulation.
3-relieves pain and stiffness at points on the fingers and distal regions.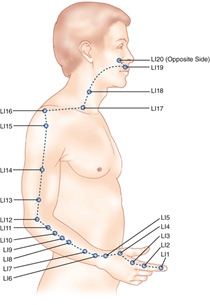 In all acupuncture meridians, points on or nearer to the narrower end of the channel, as per feet and hands, exert stronger treatment effects on the other end of their own channel. Past the knees or elbows the meridian channels are wider and have more an effect on the regions they are located.
There are 3 large intestine acupuncture points located from the right or left index fingers to their respective wrists and their treatment performs beneficially to relieve heat, pain and energy stagnation at the opposite end of the channel or head. These distal points are very effective to settle down toothache or eye pain. The first three of these distal [towards fingers] large intestine points and their treatment benefits are noted below:
Large intestine 1: located at tip of finger but clears heat from sore throat.
Large intestine 2: located at middle of finger but clears soreness from toothache.
Large intestine 3: located at the web between thumb and index finger but clears soreness from the eyes.
Large intestine acupuncture points positioned along the arm, below and above the elbow can effectively treat local effects as follows.
Large intestine points 11-12: treats pain, stiffness and or weakness around elbow and benefit elbow.
Large intestine points 13-14: treats pain, stiffness and or weakness at upper arm and relieve pain in upper arm.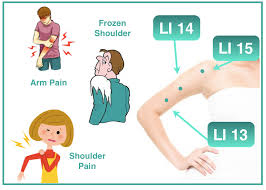 The large intestine channel finally ascends to the face so can be used to treat headache, facial paralysis, toothache, ringing in ears, or wind conditions such as Bell's palsy.
For example, large intestine points 19-20: treats toothaches, congestion of nose and so resolves nasal blockage.
The large intestine meridian [aka: the Yang Ming channel] is full of Qi and blood, which means that when the meridian qi is imbalanced conditions related to fullness, excess and stagnation can be alleviated. Fundamentally, treatment of acupuncture points on the large intestine channel are able to stop pain [where there is stagnation there is pain]. So treatment of large intestine points are able to treat/relieve pain conditions.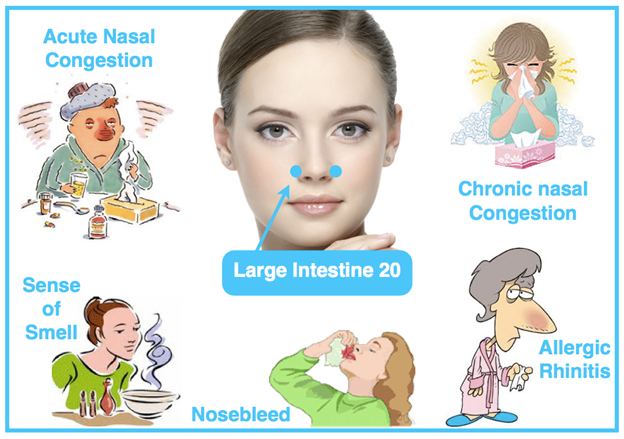 Seek professional management of large intestine meridian fullness and stagnation to clear the pain problems it causes with combined chiropractic and acupuncture care to re-establish a more relaxed and alert state of mind and body adding greater quality of life to your home and family activities.
Call: 651-699-3366 or 952-217-9587 Today