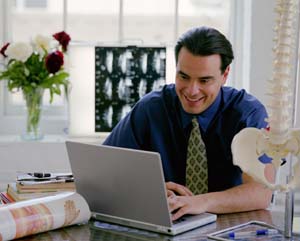 We perform $50.00 DOT physicals for drivers living in or passing through St. Paul and Minneapolis as well surrounding suburbs. The Department of Transportation (DOT) requires commercial truck drivers to satisfy specific standards related to their physical health in order to operate large motor vehicle. Any company that hires truck drivers for commercial functions has to ensure their drivers pass a DOT physical. Unless cleared by DOT examiners, they are not allowed to drive. DOT physicals give employers peace of mind that the drivers are healthy enough to drive commercial vehicles.
Make DOT physicals easy for your business and contact Dr. Robert C Slater in to arrange on-site exams. Dr. Slater is a licensed DOT examiner and will evaluate your drivers based on the latest DOT standards. The results of the tests, as provided by Dr. Slater, are considered valid by the DOT. For companies that have a large number of personnel who have to take a DOT physical, you can plan to have Dr. Slater come to your business location and carry out the tests.
The process itself is quite simple. The assessments don't take much time and it only takes around an hour or so for the results to be issued. The truck drivers who clear the tests are then given a DOT medical card. Upon obtaining this card, the drivers are deemed fit to drive large commercial vehicles, provided they have a valid driver's license. At our St Paul, MN office we offer walk-in physicals and can also come to your site if necessary. Give us a call if you would like to set up a home or office visit in St. Paul or Minneapolis.
The company also has the right to ask for further testing. The standard tests that are part of a DOT exam include:
Eyesight
Hearing
Urinalysis
Blood Pressure Levels
Although drug and alcohol testing are not always part of a DOT exam, the employer may wish to test for those, as well.
Call our office today at (952) 217-9587 or (651) 699-3366 for affordable DOT exams in St. Paul, MN.